The 2019-2020 wrestling team had their first practice on Monday, November 18. There are about 20-25 kids out this year, a pretty great amount compared to the past. 
"The expectations for the kids is that they need to work hard everyday and come ready to wrestle every meet so we can get some wins in our column," said assistant coach Larry Stufflebeam. 
Stufflebeam is in charge of getting the practices started until head coach Lonnie Furgeson arrives. First the wrestlers either run or lift weights. Next they go through warm ups and stretches. After that they drill technique and learn new moves. Finally, to end the night, they live wrestle and top it off with conditioning.
Sophomore Holden Fry is a returning varsity wrestler and is looking forward to the season.
"I am really excited for this season because we have some really good freshman coming up that can really impact our team. It's going to be a great season," said Fry. "Wrestling is  a love/hate sport, the weight cutting and the amount of hard work you put in sucks, but at the same time it's a fun sport because of the amount of physicality in it. Being a wrestler is painful, but it teaches you life lessons and prepares you for upcoming sports."
Nate Anderson, a freshman, was asked what the difference is between high school and middle school wrestling.
"It is way more serious and there is a lot more sacrifice. You have to work way harder in high school and the conditioning is horrible, but overall I like it because after a tough practice you feel like you can do anything because of what you just survived. It's going to be a great year for the team."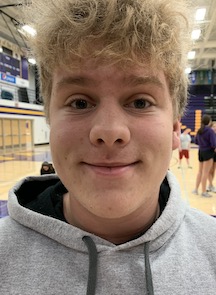 The team has its first meet on December 5th in Knoxville. The wrestlers are looking to start the year off right with a win against Pella and Knoxville. 
Article contributed by Drew Robinson.