The Nevada High School basketball season has just begun for the girls' teams. The coaches and players are excited for the season!
Head girls basketball coach, Jordan Bentley, is looking forward to being back in the gym and being able to compete again. He is also excited about seeing the girls progress throughout the season. He believes that this year's girls basketball team has the potential to surprise many other teams with their talent. Most importantly, he is excited to build relationships with the players during the season, because that is a memory that he will be able to hold onto forever.
"I'm just happy basketball season is back. I really love being in a gym and teaching the game!" said Bentley. 
This year's practices will be slightly different than they have been in the past. There will be a lot more shooting and full court drills which will result in a more competitive practice environment. With a total of 32 girls signed up for basketball this year, there will be an opportunity to practice at a faster pace. Practicing at a fast pace will be helpful when it comes time to compete against other teams.
Addi Vorm, a returning varsity athlete, is eager to compete this season. She is looking forward to playing tough competition and improving throughout the season. She is excited to see the team's hard work pay off during the regular season.
"I think this season is very promising. We have a lot of young talent along with people who have played for a while," said Vorm.
There are a few things that Addi has been working on to prepare for the season. One of her focuses has been practicing her outside shot and getting a lot of reps. She has also been working on finishing at the hoop. She hopes that this season she can draw more fouls by attacking the lane.
"I can't wait to be on the court with my favorite people! I'm excited to see what this year brings to the table all around!" said Vorm.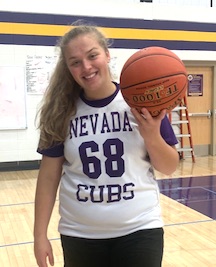 Freshman Kaleigh Groat, is excited to learn more about basketball this season. Her main goal for this season is to work on her shooting and ball handling skills.
"I'm excited to learn new things this year and to be a part of the high school team!" Groat said. 
The first official varsity game will take place at the Nevada High School Fieldhouse against Boone on November 26. Come out and support your Nevada girls high school basketball team!
Article contributed by Elie Tuhn.